💻 Save time with a done-for-you Shopify template.
📚 Gain an edge with an essential tool stack and insights to kickstart your ecommerce journey.
📈 The perfect introduction to data-driven entrepreneurship.
All for a one time cost of:
Regular price
$699.00 USD
Sale price
$39.99 USD
Unit price
per
Sale
Sold out
Done-For-You

Starting an online business may seem a bit easy… but in reality, it is Overwhelming! 

A lot of essential aspects in business should be done:

Product development
Promotions
Distribution
Creating a compelling website

Are still trying to figure out how to create a compelling and enticing website That Sells?

Well, let us help you get this one thing out of your hand! 

No need to start from Scratch! We have curated Done-For-You Shopify templates based on proven websites that convert clicks to Sales.

It just takes a few minutes to make a beautiful online page, that will make your website visitors want to buy your stuff!
Convert Click To Sales

Convey your brand message through your website.

A good landing page is a window through your brand's message, and offer. It links to every detail of the information you want to tell your audience:

Product Information
How to order
Testimonials

All these essential parts of a website are included in each template we created, For You!

These templates are curated with a deep understanding of the different niches of each particular business. The templates are created based on websites that have converted clicks to Sales.
Just Plug-And-Play

Did you know that creating a good website takes a lot of effort, time, and creative thinking skills?

Worry no more, young entrepreneur! We got you covered!

Make your work easier, save time, and focus on other things that matter.

All you need to do is to upload photos of your products/services, and update the brand name, and description!

And that's it!

In just a few minutes, your online store is up!
Custom Integration

We want to make it easy for you. We'll save you time by integrating your landing page for you!
View full details
Place Your Order

We will send you an email with instructions on how to access the tutorial videos and access to your Productivity & Goal tracker.

We Deliver Your Template

You will receive an email after your templates have been uploaded, which will include the login details for your new Shopify.

Start Selling In 1 Day!

You're now ready to start selling your products or services and start getting traffic! 
Included Within Your Starter Kit: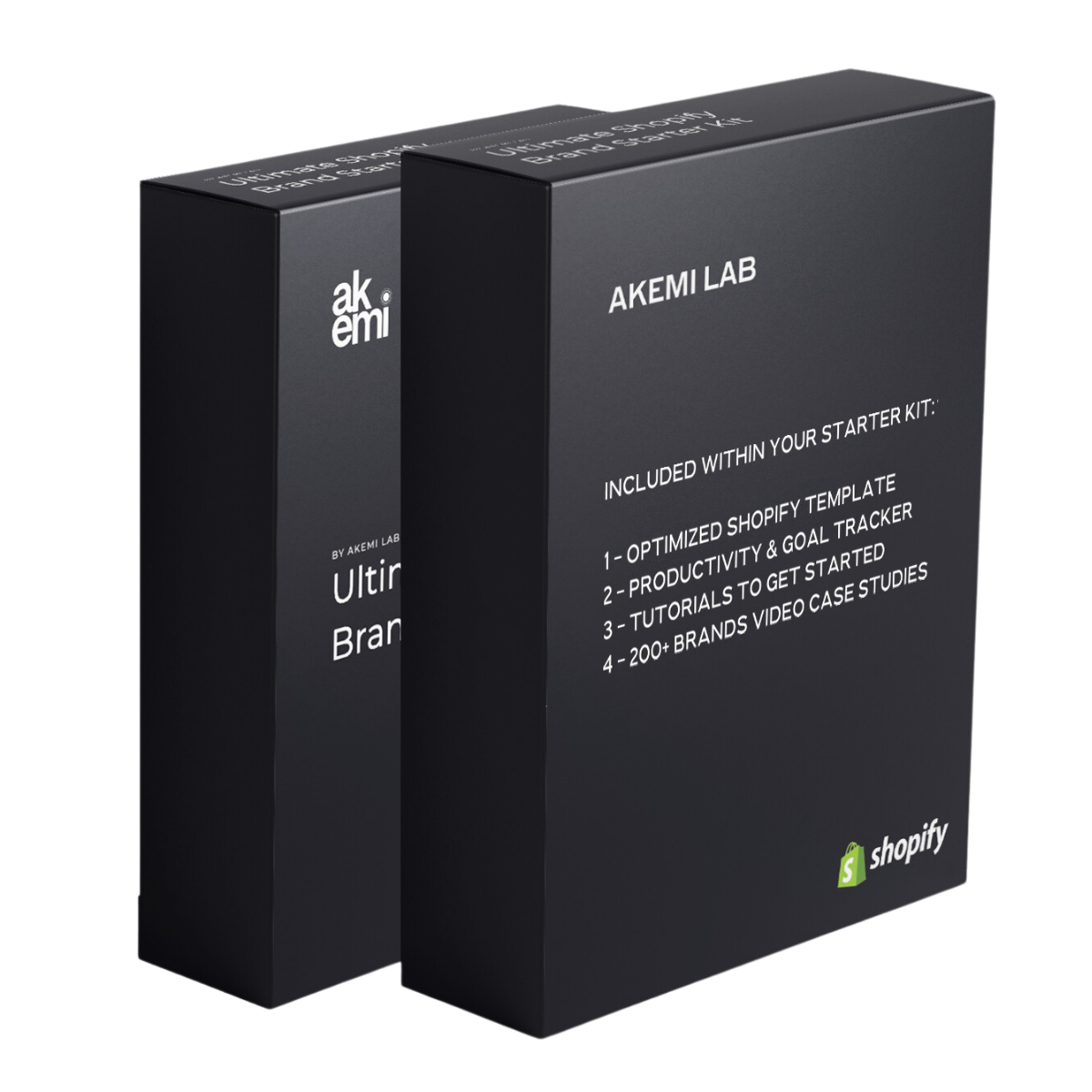 Optimized Shopify Template - (valued at $47)

With a template that is already optimized for conversions and user experience, you can focus on other important aspects of your business, such as marketing and customer service.

Plus, with a plug and play template, all you have to do is input your own branding, products, and content, and you're ready to go. No need to fuss with complicated design tools or spend hours trying to get everything just right. You'll start seeing results faster.
Productivity & Goal Tracker - (valued at $47)

Success is a series of small steps... this valuable, yet essential, tool will:

Helps you stay organized, motivated, and on track to reach your goals
Identifies bottlenecks or inefficiencies in your work process
Allows you to optimize your time and resources
Helps you regularly review your progress and make adjustments to your strategies
Keeps you focused on what's most important for your business
Can lead to greater success in running your business
Extended Shopify Trial $1/month for 3 Months - (valued at $117)

This incredible offer allows you to test the waters, set up your store, and explore all that Shopify has to offer at a fraction of the cost. Don't miss this limited-time opportunity to kick off your entrepreneurial adventure on the right foot.
Tutorials To Get Started - (valued at $197)

How to customize your store to fit your needs.
Basic design principles that will help you in your brand building journey
How to set up data tracking to capitalize on each website visitor.
How to create an organic content strategy for your brand.
How to set up machine learning ads to grow your brand.
200+ Brands Video Case Studies - (valued at $297)
F.A.Q
Do I need to have a Shopify Account Before using the templates?

No, we will provide you a new shopify account with the uploaded templates or you can use the following Shopify Link to enjoy up to 3 months at $1 per month - so you'll save $114 just by using this link.
What if I already have a Shopify Store?

Most of the time it is a lot better if you have an expert setup the store from scratch for you since the design you made is most likely not setup for success. So, even if you have already have a shopify store, don't worry. We'll still be able to create a new one for you that is setup correctly. 
What other fees are associated with this? 

The only other thing that you have to pay for is hosting for your Shopify store and a domain name if you don't have one starting from $9/year. You will get a 3 months trial at $1/month with the store, if you choose to keep it you will need to pay $39 a month for hosting your website through Shopify, you can cancel at anytime and there are no contracts or other hidden fees. 
Do you advertise the store for me?

We do NOT do any advertising for your store. That will be for you to do when the templates are uploaded to your store and handed over to you.
What if I have my own products?  Can I add them to my store?

Yes! You'll easily be able to add as many products as you like to your store after deliver it. The process is extremely simple and you can do it within a couple of clicks. We've got a tutorial video on how to do it.
How soon will I be able to use the Shopify Store as my own?

Within less than 24hrs after you place your order, we'll send you your login information for your new Shopify Store with your uploaded template. All you'll have to do is login, change the password, and the store is all yours! 
Can I get a Refund if I don't like the template?

If you're unsatisfied for any reason, we'll be happy to give you a full refund as long as it's requested 12 Hours within Store delivery and there is proof shown that you actually tried to access your store and use it. 
Will you help me make changes and customizations on my Shopify Store?

We will provide you support to help you access the Shopify store and use it. We'll also give you step by step video guides on how to access and make changes to your store. However, we will not be able to go into your account and do the changes FOR YOU as that will not allow us to provide our templates at this very affordable price. Rest assured, you will love your website and the templates and you'll easily be able to make the changes you would like.